Banana Boat Adventure 
One such exhilarating experience that promises an adrenaline rush and loads of fun is the Banana Boat ride. The Banana Boat ride is a quintessential beach activity that combines adventure, laughter, and the breathtaking beauty of the Andaman Sea. This activity typically involves a large inflatable banana-shaped boat that can carry several passengers, ranging from four to twelve, depending on its size. You and your fellow adventurers sit astride the banana boat, holding onto sturdy handrails while jet-setting through the Andaman Sea.
Once everyone is comfortably seated, the real fun begins! A powerful speedboat whisks you away from the shore and into the open waters of the Andaman Sea. As the speedboat picks up the pace, the banana boat starts to bounce and sway on the waves, creating a thrilling and bumpy ride. It's like a roller coaster on water but with the added thrill of potentially getting splashed or even tipped over into the sea. Live up your sea adventures and enjoy your thai cuisine on this wonderful private island.
Why Banana Boat in Phuket?
1. Breathtaking Scenery: Phuket is known for its stunning coastal landscapes, and there's no better way to enjoy them than from the back of a banana boat. As you ride along the coast, you'll be treated to breathtaking views of lush green hills, limestone karsts, and the clear blue waters of the Andaman Sea.
2. Fun for Everyone: Banana Boat rides are suitable for all age groups, making them a fantastic family-friendly activity. Whether you're traveling with children or a group of friends, everyone can partake in the excitement.
3. Adrenaline Rush: If you're an adrenaline junkie, the thrill of bouncing over the waves and the possibility of getting splashed or even capsizing into the sea will provide an exhilarating rush that you won't soon forget.
4. Affordable Adventure: Compared to some of the more expensive water sports in Phuket, Banana Boat rides are relatively budget-friendly. You can enjoy a heart-pounding experience without breaking the bank.
5. Group Bonding: Banana Boat rides are a great way to bond with friends and family. The laughter, shouts, and shared excitement create lasting memories that you'll cherish.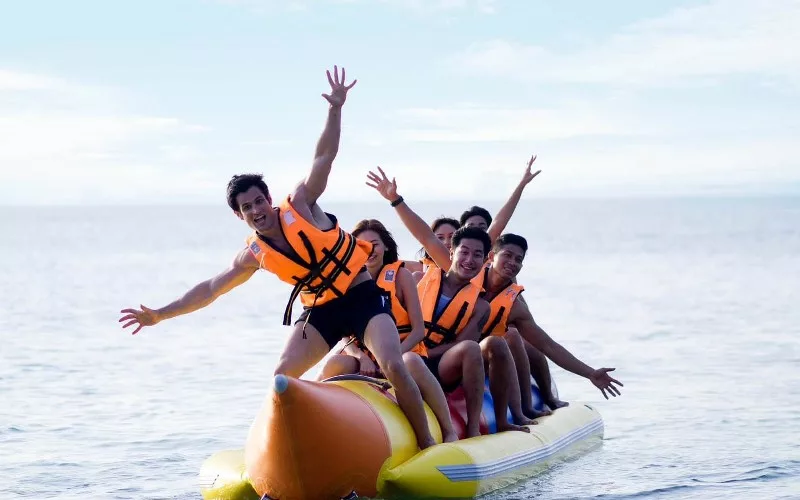 While Banana Boat rides are undoubtedly thrilling, safety should always be a top priority. When booking your adventure in Phuket, make sure to choose a reputable operator that adheres to strict safety guidelines. You'll be provided with life jackets, and the ride will be supervised by experienced guides who will ensure that everyone is secure throughout the journey.
#1 Tips for a Great Banana Boat Experience
1. Wear appropriate swimwear: Be prepared to get wet, so wear your swimsuit and bring a change of clothes for after the ride.
2. Secure your belongings: Leave valuable items, like phones and cameras, in a safe place onshore. Some operators offer waterproof pouches for small essentials.
3. Hold on tight: Grip the handrails tightly and brace yourself for the bumps and turns. It's all part of the fun!
4. Listen to the guide: Pay attention to the safety briefing and instructions from your guide. They will ensure you have a safe and enjoyable experience.
Banana Boat adventures in Phuket are a thrilling way to experience the beauty of this tropical paradise while enjoying an adrenaline-pumping ride on the open sea. Whether you're traveling with family or friends, this activity promises laughter, excitement, and unforgettable memories. So, when you visit Phuket, don't miss the chance to hop on a banana boat and embark on an adventure that will leave you craving more of Thailand's incredible coastline.